Qatar Airways hat weltweit Flüge mit einem Rabatt von 30 Prozent auf Reisen zu Zielen wie beispielsweise Bangkok und Sydney aus den USA heraus im Angebot. Ihr habt aber nur bis Sonntag Zeit, um zu buchen.
Das Angebot, das bis zum 6. August gebucht werden muss, ist gültig für Reisen bis zum 31. März 2024. Die Promotion mit 30 Prozent Rabatt gilt sowohl für Economy-Class Classic-Tarife als auch für Business-Class Classic-Tarife.
Um von dem Angebot profitieren zu können, müsst ihr euer Ticket mindestens drei Tage vor dem Abflug kaufen und mindestens drei Tage am Reiseziel bleiben. Es gibt mehrere Ausschlussdaten für Auslandsflüge aus den USA vom 10. bis 23. Dezember sowie für Rückflüge in die USA vom 27. Dezember bis 21. Januar 2024.
Das Angebot gilt für Reisen von allen US-Abflugorten von Qatar: Atlanta, Boston, Chicago, Dallas, Houston, Los Angeles, Miami, New York, Philadelphia, San Francisco, Seattle und Washington D.C.
Neben der Ersparnis auf Flüge könnt ihr euch für das Privilege Club Treueprogramm der Fluggesellschaft anmelden, und bis zu 3.000 Bonuspunkte für die Economy und bis zu 6.000 Bonuspunkte für die Business-Class auf dem ersten Flug als Mitglied verdienen. Um die Bonuspunkte zu erhalten, müsst ihr den Code  »PCGSP« verwenden, wenn ihr euch bis zum 5. August anmeldet und vor dem 30. Juni 2024 fliegt.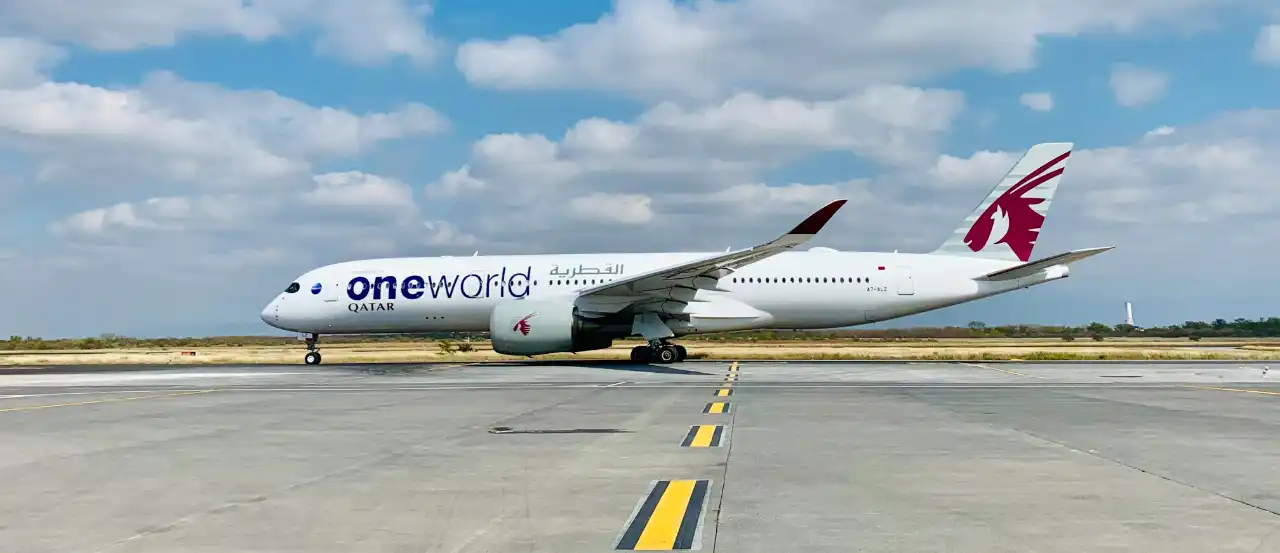 Hier sind die Konditionen:
Flight offer terms and conditions
Booking period: 01 August 2023 – 06 August 2023

Travel period: 02 August 2023 – 31 March 2023; All travel must be completed by 31 March 2024

Blackout Dates (Outbound): 10 December – 23 December 2023

Blackout Dates (Inbound): 27 December 2023 – 21 January 2024

Minimum Stay: 4 days or first Sunday

Maximum Stay: 2 months 

Ticket must be purchased at least 3 Days prior to first flight. 

Fares displayed already include all applicable discounts from this offer. The discount is only applied to the base fare. Any other taxes, service fees or standard market charges will be payable and displayed at the time of booking.

Fares are roundtrip, per person, and include all applicable taxes, fees and fuel surcharges (which are subject to change due to currency fluctuations). The breakdown will be shown during the online booking process.

The offer is applicable on Economy Class Classic and Business Class Classic (up to 30%), seats are limited and are subject to availability.

The offer is valid on flight itineraries from the following Qatar Airways operated destinations:

Departure Airports: Atlanta (ATL), Boston (BOS), Chicago (ORD), Dallas (DFW), Houston (IAH), Los Angeles (LAX), Miami (MIA), New York (JFK), Philadelphia (PHL), San Francisco (SFO), Seattle (SEA),  Washington D.C. (IAD), Montreal (YUL), and Sao Paulo (GRU)

To Destinations: Abuja (ABV), Accra (ACC), Addis Ababa (ADD), Adelaide (ADL), Ahmedabad (AMD), Amman (AMM), Amritsar (ATQ), Abu Dhabi (AUH), Bahrain (BAH), Beirut (BEY), Baghdad (BGW), Bangkok (BKK), Bangalore (BLR), Brisbane (BNE), Mumbai (BOM), Basra (BSR), Cairo (CAI), Calicut (CCJ), Kolkata (CCU), Cebu (CEB), Colombo (CMD), Cochin (COK), Cape Town (CPT), Clark (CRK), Dhaka (DAC), Bali (DAR), Delhi (DEL), Dammam (DMM), Bali (DPS), Durban (DUR), Dubai (DXB), Entebbe (EBB), Yerevan (EVN), Goa (GOI), Hanoi (HAN), Phuket (HKT), Hyderabad (HYD), Islamabad (ISB), Jeddah (JED), Jakarta (JKT), Kilimanjaro (JRO), Johannesburg (JNB), Karachi (KHI), Kathmandu (KTM), Kuala Lumpur (KUL), Kuwait City (KWI), Lahore (LHE), Lagos (LOS), Chennai (MAA), Muscat (MCT), Medina (MED), Melbourne (MEL), the Maldives (MLE), Manilla (MNL), Multan (MUX), Nagpur (NAG), Nairobi (NBO), Al Najaf (NJF), Perth (PER), Peshawar (PEW), Riyadh (RUH), the Seychelles (SEZ), Ho Chi Minh City (SGN), Singapore (SIN), Sialkot (SKT), Sydney (SYD), Tbilisi  (TBS), Tehran (IKA), Thiruvananthapuram (TRV), Zanzibar (ZNZ).

The incentive is valid on Qatar Airways operated one-way and return flight itineraries worldwide, excluding codeshare and interline partnerships.

Qsuite deployment is not guaranteed on all flights, and is subject to last minute operational changes

Tickets are non-endorsable and non-transferable.

In case of involuntary flight cancellation, the passenger can rebook and change dates or destination to any alternative Qatar Airways operated flight.

Any change or cancellation less than 3 hours prior to the stated time of departure will be considered as no-show, whereby no-show penalties will apply.

For travel involving multiple booking classes, the most restrictive fare rules apply to the entire itinerary.

This offer cannot be combined with any other promotion.

Qatar Airway's

terms and conditions

will also apply to your booking, please refer to the fare rules at the time of booking to learn more about the official conditions related to changes, cancellations, and no-shows.



Bonus Avios terms and conditions
This offer is only applicable to main members who join Privilege Club using the applicable promocode PCGSP.

Enrolment Period: 01 August 2023 – 05 August 2023

Travel Period: Before 30 June 2024

Promocode is valid for 3,000 Avios in Economy Class and 6,000 Avios in Business Class. 

Members who did not quote any of the applicable promocodes at the time of enrolment will not receive the bonus Avios.

Bonus Avios will be credited to the membership account immediately after the first flight with Qatar Airways, if the enrolment and travel is within the offer period.

In case of retro claims, bonus Avios will be awarded if the member's enrolment and travel is within the offer period and as per Privilege Club's programme

terms and conditions

.

Members need to ensure to quote their Privilege Club number at the time of booking or check-in for the Avios to be credited after the first flight is travelled.

Offer is applicable only for flights operated and marketed by Qatar Airways.

Travel on Award tickets is not eligible for Bonus Avios.

Existing Privilege Club members are not entitled to participate in this offer and any duplicate accounts will be cancelled by Privilege Club.

Bonus Avios will be credited as per the cabin of the first flight flown.